According to NYT , The Justice Department is expected to file antitrust charges against Google as early as this summer, said two people with knowledge of the situation, in what would be one of the biggest antitrust actions by the United States since the late 1990s. Some old timers may remember back decades ago when antitrust regulators literally chopped the nutz off American Telephone & Telegraph (AT&T ) who thought they were more powerful than the government. It's Googles Turn!
The U.S. Justice Department (DOJ) is still investigating the massive internet company and has been making progress on its case, said the people, who spoke on the condition of anonymity because the details were confidential. The regulators are focused on Google's dominance in the online advertising industry, and the case will also involve allegations that the company abused its dominant position in online search to harm competitors, the people said.
For what it's worth, as a vocal president Donald J. Trump supporter, I've faced the wrath of Google being on their crap list. But this goes so much deeper than Google antitrust. It's a big tech social media censorship problem that's getting worse as election day nears. 🙁
I've been personally impacted by big tech bias in social media. As a computer bulletin board system operator (Sysop.) I've been bouncing early electronic mail worldwide via the Fidonet network using 2400 baud modems long before the Internet was made available to the general public.
So I've been around the block a time or two. The Internet was a blessing when it first came out. As a hobbyist I've kept up with tech since those early days and followed Google like a hawk. Personally I feel big tech as a whole was allowed too amass too much power over the people. Bloggers and Vloggers such as me are being punished for supporting our president Donald J. Trump. 😥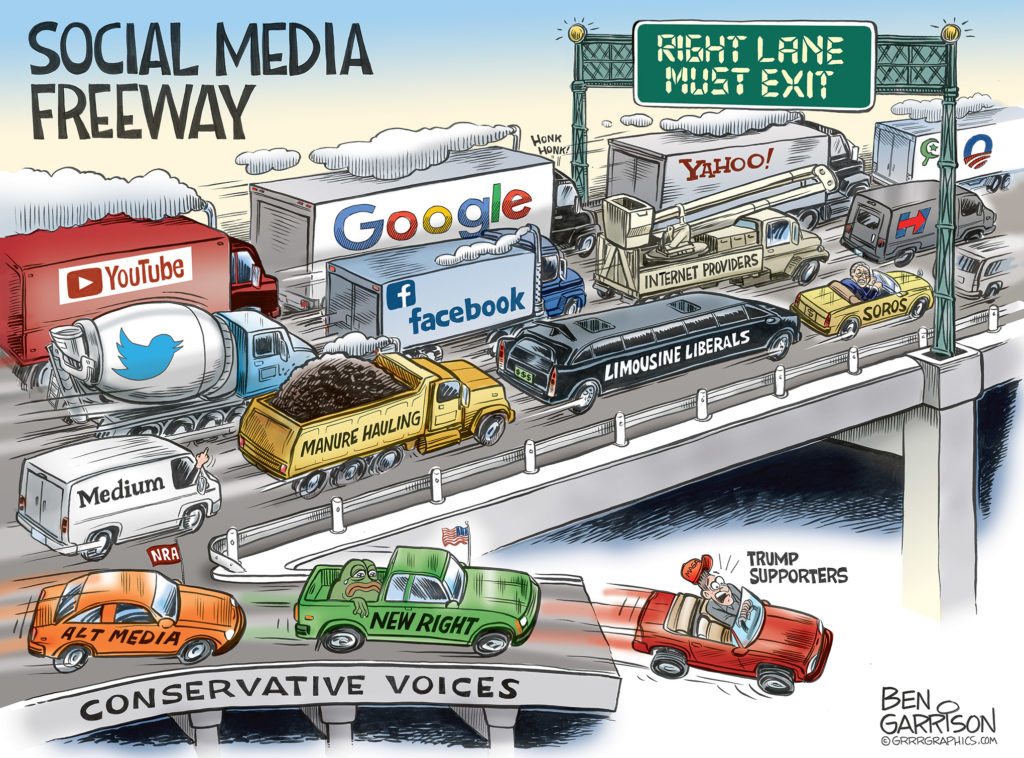 In this narrated screen video recorded in August 2018, the absence of Trump related keywords and keyphrases in my Google webmaster tools account is alarming. The data suggests anything Trump positive is ignored, while negative is added to their index. In 900 queries Trump was found twice.
In July 2019, Project Veritas published a whistleblower video where Google Engineer Greg Coppola exposed more of his employers political bias against conservatives. Slowly but surely the death star is succumbing to attacks by the force. It's darkest dirty secrets are being outed by it's own employees who feel the code they're writing is immoral in nature.
According to Coppola , tech is dangerous, and is taking political sides. He says he has a PhD, and has been with Google five years and understands algorithms well. Algorithms don't write themselves, we write them to do what we want them to do. That's a fact we've all witnessed!
During the 2016 elections , Google was the Clinton campaign's largest contributor. Google employees, including at least six high-ranking executives, donated more than $1.3 million to Clinton's 2016 campaign. Google antitrust is an annual financial supporter of the Clinton Global Initiative, a project of the Clinton Foundation. An alleged laundromat for ObamaGate corruption.
Google's extraordinarily close relationship with President Obama's administration led to a long list of policy victories of incalculable value to its business. An in-depth examination of the company's efforts to extend that special relationship into the next administration, which it wrongly predicted would be led by Clinton, reveal what we're seeing from Google for Trump administration.
Sergy Brin and other high level executives, and a huge amount of Googler's were literally crying during this Thank God It's Friday (TGIF) event where Brin said this, "As an immigrant and a refugee, I certainly find this election deeply offensive, and I know many of you do too." The full one hour TGIF video is on Breitbart News . Goog Hates TRUMP, and i highly suspect they will try again to influence the 2020 presidential election. Hopefully the Trump campaign is on it.